Egerton University remains committed to address the knowledge and skills gap in achieving sustainable development. Enhanced collaboration with TVET institutions is important towards provision of knowledge and solutions to underpin the implementation of key national development goals.
Building on its long history of working with Technical and Vocational Education and Training (TVET) institutions in research and development, Egerton University through the "Transforming African Agricultural Universities to meaningfully contribute to Africa's Growth and Development (TAGDev)" program, held a forum on May 6th 2022 that provided a platform to explore the areas of possible collaboration for mutual benefit.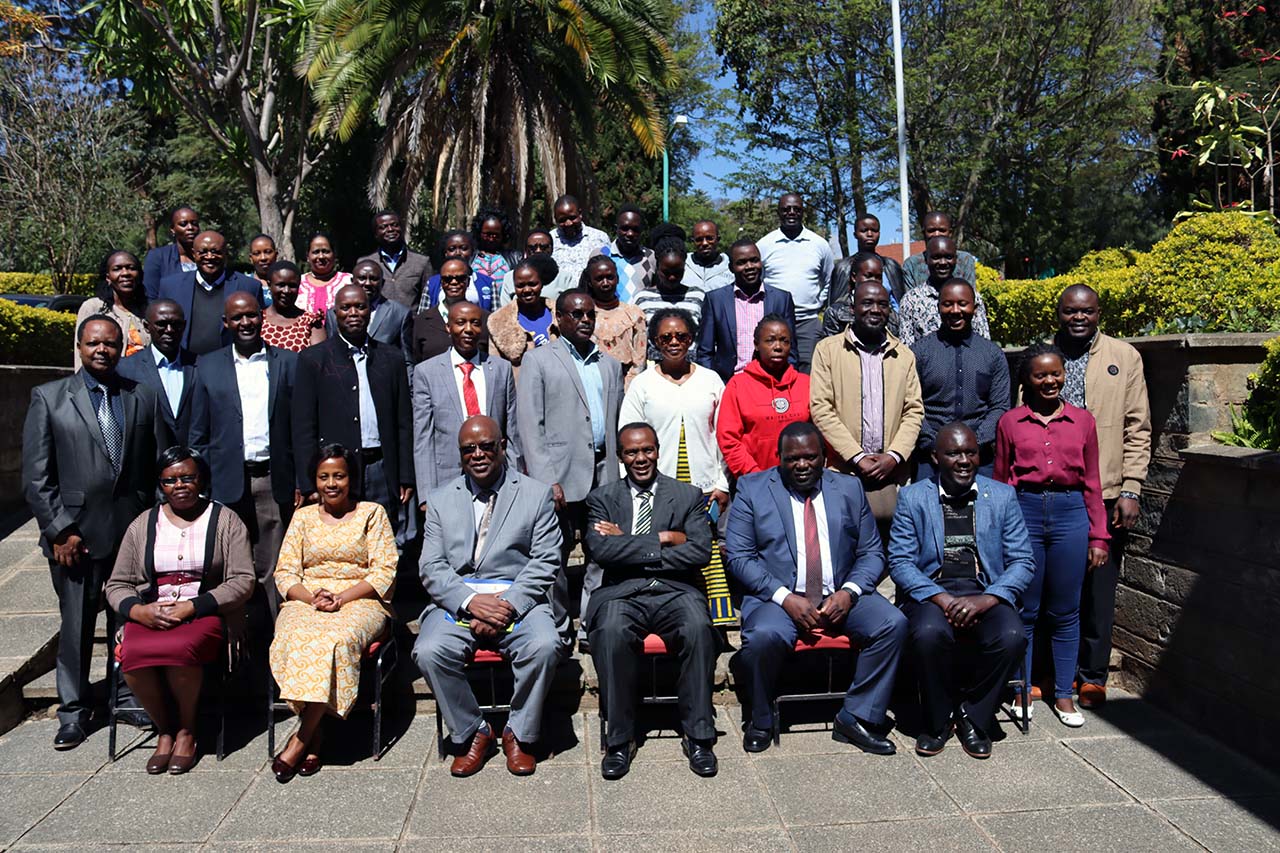 Seated from right: Dr. Antony Egeru, RUFORUM, Dr. Richard Wekesa, Bukura, Mr. Fred Oada TVETA, Prof. Bockline Bebe Egerton University, Prof. Nancy Mungai Egerton University and Mrs. Pamela Nasimiyu, Baraka
TAGDev is a partnership Program between Regional Universities Forum for Capacity Building in Agriculture (RUFORUM) Mastercard Foundation and Gulu University in Uganda. The program aims at scaling up new models for agricultural education and increasing collaboration and mutual learning with special focus on collaborating with other agricultural universities and Technical and Vocational Education Training (TVET) institutions for sustainable development. TAGDev Program at Egerton University hosted TVET forum on Friday 6th May 2022 at ARC Hotel, Egerton with 50 participants (21 females and 29 Males). Representatives were drawn from Baraka Agricultural College, Bukura Agricultural College, Dairy Training Institute, Njoro Vocational Training Center and Egerton University staff and students. The forum's theme was: "Repositioning University and TVET within the Sustainable Development Framework". Dr. Fred Oanda, Director Accredatation and Outreach Services - TVETA, representing the Director General, TVETA, graced the event with a keynote speech on 'Enhancing Universities and TVETs Collaborations for Sustainable Development".
In the opening remarks, Prof Anthony Kibe acknowledged the support that TAGDev program has offered the Community Action Research Project (CARP+) that has enabled collaboration with TVET institutions notably Baraka Agricultural College (BAC) and Mtakatifu Clara. He noted that a major success in the seed potato project is that the project and BAC are now registered by KEPHIS and are recognized as seed potato producers in Kenya currently multiplying Shangi, Kenya Karibu and Dutch Robin potato varieties. He also noted that Egerton University staff have participated in the development of curriculum at Baraka Agricultural College in National Occupational Standards for Pig producer assistant level 3 and 4. He concluded by indicating that Seed-Potato CARP+ in collaboration with BAC has trained more than 500 seed potato farmers.
Prof. Nancy W. Mungai gave an overview of the TAGDev, noting that the program is focused on transformation at individual, institutional, national and regional levels. To achieve transformation at institutional level, TAGDev recognizes the education pipeline from basic education to TVETs and the need to strength each component. She underscored the synergy that be created when insitutitions leverage on their areas of strength. Dr. Antony Egeru added that most African countries have low progression and transition between education levels. The high rate of school dropout has magnified the rate of poor skilled labor in Africa. TVET sector has been identified as a priority sector to turn youth into high skilled labor and support entrepreneurship growth for job creation. RUFORUM has embarked to strengthen technical and vocational education and training through scaled up investments, support and partnership. RUFORUM engagement with TVETs is focused on 5 key areas which are; Institutional development, Human resource development, System improvements- Mainstreaming ATVET into TVET, Cooperation and networks, Policy and regulatory environment.
Mr. Fred Oanda from TVETA on the keynote speech on Enhancing universities and TVETS collaboration for sustainable development, noted that youth unemployment is an emerging issue in Kenya and Africa at large the major challenge has been how to provide meaningful employment to the youth. This is compounded by an education system that focuses more on theoretical studies than practical and technical skills producing graduates who look for employment rather than create employment. Collaboration between University and TVETs is essential to provide a much-needed boost in research, creation of innovations and development and delivery of quality training/ academic programs. It will also reduce the high cost of research and innovation and supplement the declining enrollment especially in universities.
The four TVET institutions that participated in the forum presented on the areas of University-TVET collaborations. The following areas were identified by TVETs as possible areas for collaboration: Collaborative research in Climate Smart Agriculture and related fields; Technology testing; Structuring and managing incubation center for agripreneurs; Establishing technology incubation centres to enhance training; Developing, implementing and assessing demand driven training modules; Provision of opportunities for academic progression to TVET students; Graduate Tracer Studies; Professional skill development for staff; Dissemination of relevant research findings and appropriate technologies; Modernization of training infrastructure to support increasing student admissions; Development of curricula; Student attachment, internship and incubation; and Sharing of facilities and resources including human resource
The meeting ended with both parties committing to follow through to ensure that the partnerships are successful and sustainable.